CellAED for life™ Annual Membership
$198
Every 12 months
Have your CellAED for lifeTM with this 12 month membership option.*

CellAED for lifeTM is an ongoing support and replacement service so that you'll always have a working CellAED®️ ready for use, plus more membership benefits.

---
*One membership covers one CellAED® device (device sold separately). Your membership will be charged in full at check-out and will automatically renew. Terms and conditions apply.
Features
Graphics show how to apply the device on both adults and infants.
A perforated label marks the place for easy snap activation.
Audio speaker gives instruction on what to do, every step of the way.
Infant mode button for use on infants weighing less than 10kg.
Length: 19.6 cm Width: 9.3 cm Depth: 1.7 cm Weight: 450 g including protective case
LED indicator with periodic blinking showing the status of the device.
SPECIFICATIONS ARE SUBJECT TO CHANGE WITHOUT NOTICE AND MAY VARY IN DIFFERENT COUNTRIES AND REGIONS.
THE IMAGE SHOWN WITHOUT PROTECTIVE CASE. ONLY OPEN IN EMERGENCY.
It's as easy as: Snap Peel Stick
SNAP
Power device by snapping in half along perforated centre line. This will automatically start the audio instructions guiding you on what to do, every step of the way.
PEEL
Remove the protective liner under the device by continuing to separate the two halves. This will expose the integrated gel pads and extend the connecting cable.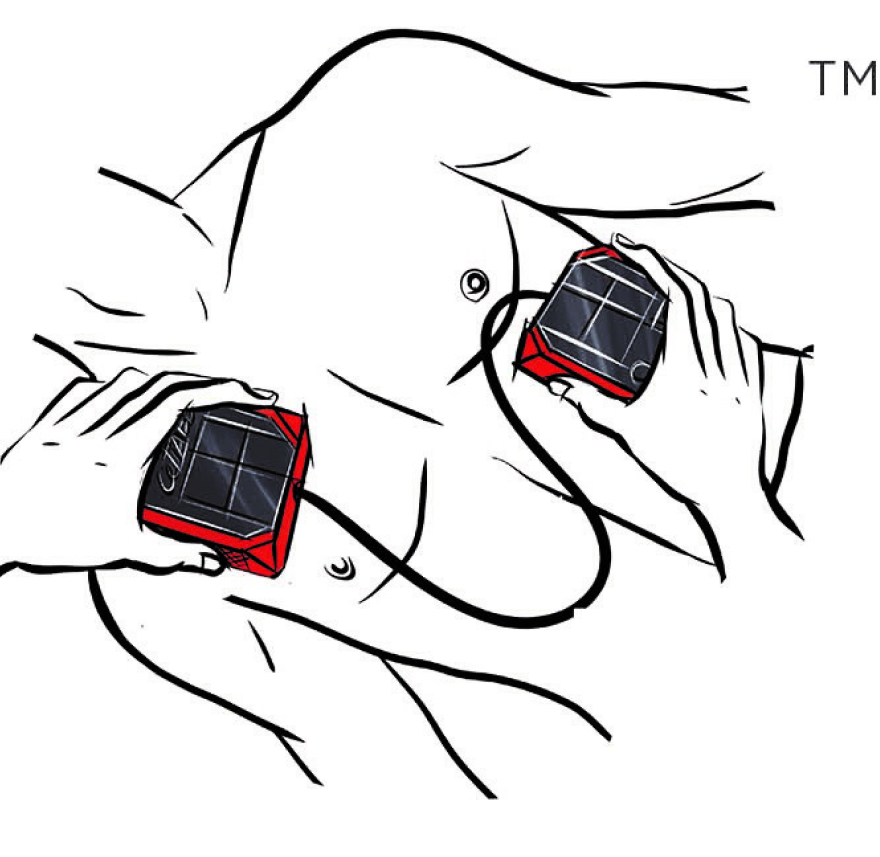 STICK
For adults, place each half of the device on the bare chest (as shown). For infants, place one half on the infant's chest and the other half on the infant's back.
Be prepared with CellAED® in your home
Time is everythingTM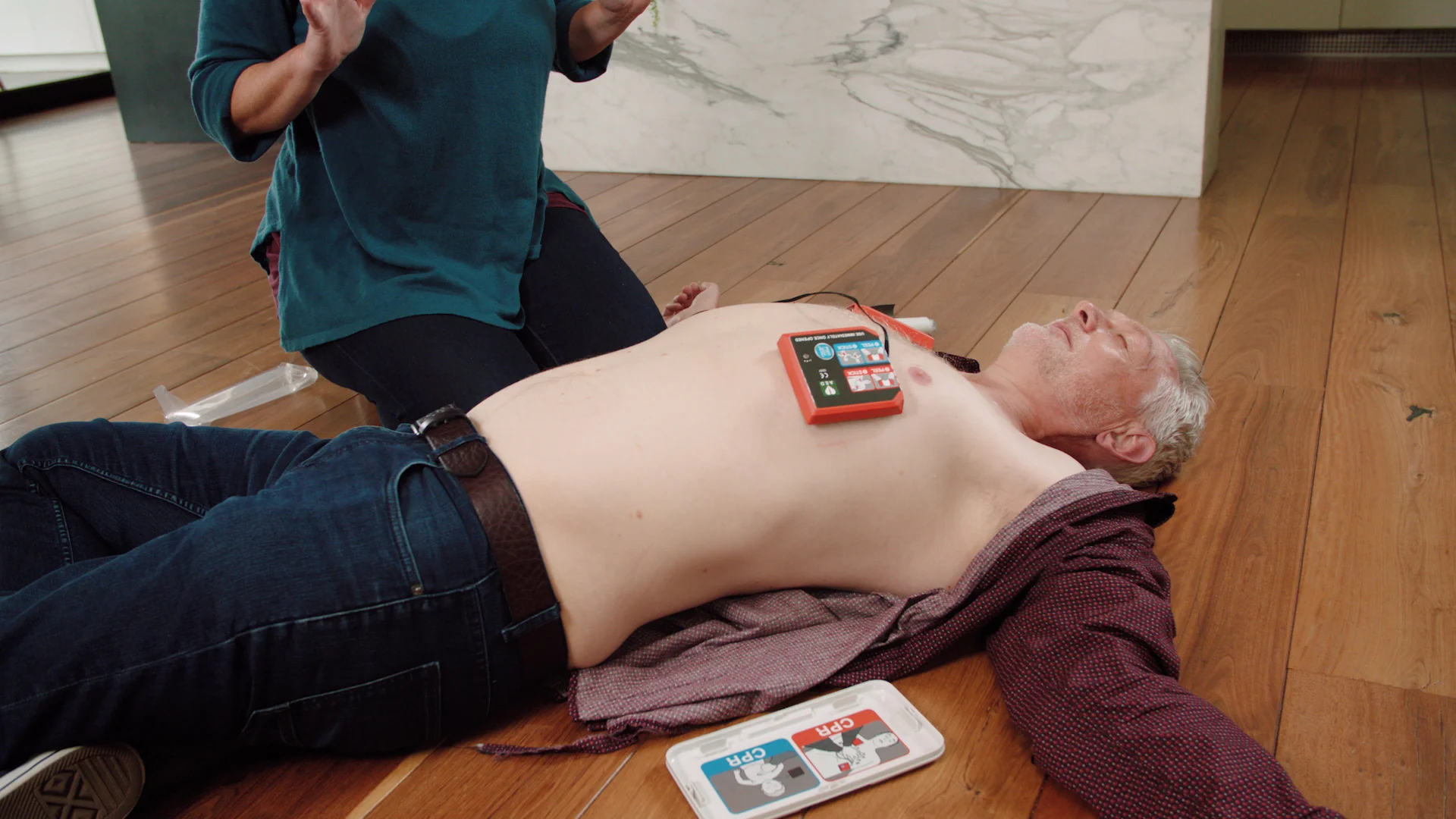 Peace of mind, that hopefully you never have to use it, but you have something at hand that literally can save someone's life
- David Whiting, sudden cardiac arrest survivor
Have a question?
If you haven't ordered yet check the red banner at the top of the page for most updated delivery dates.
If you have ordered you are in the queue, please check your order confirmation email for your expected delivery date.
Due to the supply chain shortage impacting global manufacturing, we're not currently accepting requests for fast-tracked CellAED® orders.
Once you've ordered, we'll automatically keep you informed on your CellAED® delivery timing – so it's important to keep your contact details up to date. You can update your details at any time via your personal customer account - which can be created when you make your purchase.
When you placed your order, you will have received an order confirmation email which tells you the expected delivery date.
If you have specific questions about your order, please quote you order number and contact us at [email protected]
Changing your address, payment or other personal details registered with us is easy. Simply contact us via email [email protected].
If, for whatever reason, you need to cancel your order, no problem – your payment is fully refundable. You can contact us via [email protected] or via the online Contact Us Form
We are currently accepting orders of up to 10 devices as part of our pre-order.
There are two ways to reserve a larger quantity of CellAED® devices:
Simply identify the number of CellAED® devices you want to reserve (up to a maximum of 10) and secure your order through the checkout.
Contact our commercial team to discuss the specific needs of your organisation. Click here.
No. Your CellAED® comes with a non-rechargeable battery and will arrive pre-charged.
CellAED®️ delivered after 1 April 2023 have a product expiry of 2-years. You can find the expiry date printed on the back of your CellAED®️ protective case.
You do not need to connect your CellAED® to a network. Network connection is not required for your product to function as a life saving medical device.
If cellular coverage is available, your CellAED®️ will automatically connect to the network for regular device status updates as part of the CellAED for life™️ membership, as well as the uploading of data recorded anonymously during emergency use.
No. CellAED® is a fully integrated product designed to work without needing to worry about replacing parts like battery or gel pads.
CellAED® is currently approved for use in countries within the UK, European Economic Area, Australia and New Zealand.
We are currently working through regulatory processes covering other parts of the world.
If you live outside these regions sign-up to our newsletter where we will keep you updated and let you know when we launch into new countries.
*Offer available for Australia store only. Ends 30 June 2023.