CellAED®️
Your handheld, smart personal AED (Automated external defibrillator), for use in the treatment of sudden cardiac arrest in the home, workplace or community.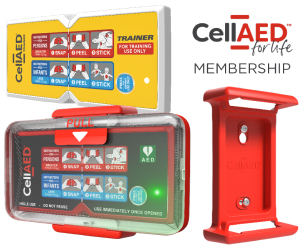 CellAED for lifeTM
Have your CellAED for lifeTM with an ongoing support and replacement service so that you'll always have a CellAED®️ ready for use if called to respond to a sudden cardiac arrest.
CellAED TRAINERTM
Practise using your CellAED®️ with this reusable training replica including the CellAED TRAINERTM App.
CellAED WALL MOUNT TM
Store your CellAED®️ in a visible location for quick access in the event of responding to a sudden cardiac arrest.